Heritage
Welcome to the history of JAMES J. FOX
Since 1787
We have been trading in fine tobacco and smokers' accessories from 19 St James's Street since 1787 and our customers have included discriminating smokers from all walks of life – from commoners to kings. Among them have been Sir Winston Churchill, Oscar Wilde, British and Foreign Royalty, the officer's mess of famous British regiments, and the leading lights of the stage, film, sport, tv, radio, music and literature.
Our world famous tobacco business started with Robert Lewis, who began trading fine tobacco in St James's Street in 1787. James J Fox was formed in Dublin in 1881 and opened its first tobacco shop in London in 1947. Fox acquired the business of Robert Lewis on 14 September 1992, uniting two of the most respected names in the cigar world. Both companies now trade as JJ Fox (St James's) Ltd and run the cigar departments of Harrods and Selfridges.
Frederic James Fox
1913-1990
Born in 1913, Frederic (Freddie) was the fourth of five children and the youngest of James Fox's three sons.He found himself in charge of the family business, a single cigar shop on Dublin's Grafton Street, after the untimely death of his two brothers. Stanley Fox was shot dead by armed thieves thought to be members of the IRA in 1926, while Ronald (Biffy) was missing in action over the Dutch coast in 1942 during an RAF mine laying mission. Freddie, not content with just one shop, took the business from strength to strength. He established a successful import and wholesale business in Ireland alongside the world's first Duty Free outlet which expanded the retail cigar business into London. He developed numerous brands including Punch Nectares, Bolivar Amado, Hoyo Royal Hunt and La Corona Policromia, and established the Astor Tobacco Company. His enterprising nature also saw Freddie acquire and develop a successful import and wholesale business in the Channel Islands; and he oversaw the origin of the business's entry into the property markets, developing several high profile office buildings in St Helier, Jersey including Sir Walter Raleigh House on the Esplanade. Freddie Fox died in 1990. He is still sorely missed by his family, friends and colleagues from the cigar industry. Were he to be asked to comment on his career achievements, he might say :
"Not bad for a beginner."
We would agree.
The Freddie Fox Museum
During our many years of trading at 19 St James's Street, we have collected a vast array of historic pieces and memorabilia. We chose to dedicate our museum space to the late and great Freddie Fox. The Museum is located in the basement of our flagship store and is open Monday to Saturday during the store's opening hours. Please take the time to have a look at some of our pieces displayed here and the many more visible in the museum.
Museum Pieces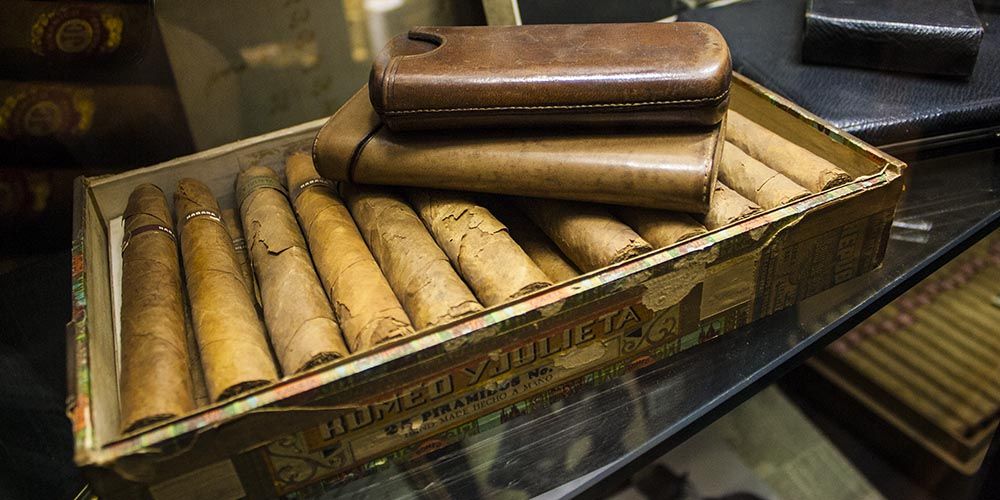 Sir Winston Churchill's Cigars
These cigars and cigar cases were owned by Sir Winston Churchill. They were donated to our museum after his death in 1965.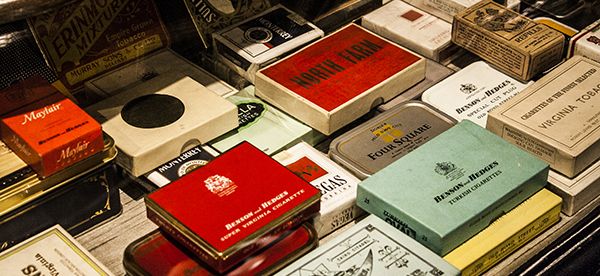 Vintage Tobacco
Our Collection of vintage cigarettes and tobaccos throughout our store's history.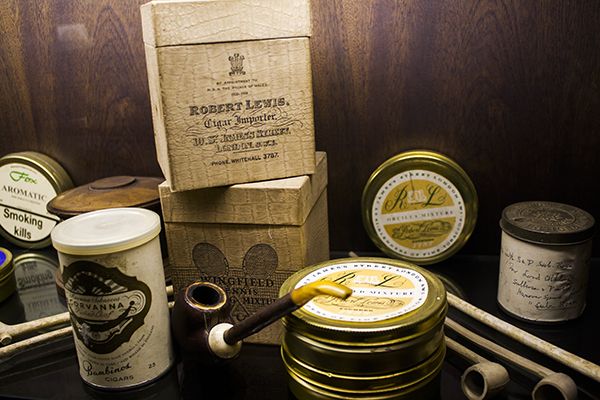 Robert Lewis
A collection of tobaccos and pipes produced by Robert Lewis.
The Bristol Pipe
Made around the time of our shops opening (1787), this is the oldest exhibit in our museum. The pipe was made by an apprentice.
Oldest Box of Havana Cigars
This is the oldest box of Havana cigars still in existence and the first box to reach the United Kingdom in 1851 as part of the great exhibition. The cigars inside are the original cigars and are called La Cabanas.
Oscar Wilde
High Court letter showing an outstanding balance of Seven Shillings and three pence. This was for purchases Oscar Wilde made with us between 5th of September 1892 & 24th of June 1893.
Royal Family
A list of members of the Royal Family who were customers of our establishment in 19 St James's Street.
Oscar Wilde's Ledger
This is a picture of Oscar Wilde's ledger. Most of his purchases were cigarettes.
Sir Winston Churchill's Chair
This was the chair used by Sir Winston Churchill while he was selecting his favourite cigars at our store.
Royal Warrants
We have recieved seven royal warrants since our opening in 1787. The first was from Queen Victoria and the last from the late Queen Mother. We have all of them displayed in our St James' Street Store.
To become a member of the Royal Warrant Holders Association (RWHA) a company must hold a Royal Warrant which is only granted to tradesmen who provide goods and services to the Royal Households of The Queen, The Duke of Edinburgh or The Prince of Wales (known as the Grantors). Royal Warrants are only issued to tradesman. The professions such as bankers, solicitors and accountants, employment agencies, party planners, government departments, the media and 'places of refreshment or entertainment' do not qualify.