Our specially created humidor has been produced by luxury bespoke cabinet makers, Halstock.
Halstock's demand for excellence within their work is why we asked them to create this luxury cigar humidor. Their portfolio ranges from the small creations, like jewellery boxes and watches boxes, to the large and extravagant productions of dressing rooms, kitchens and wine cellars. Their expertise and reputation made them the perfect company to work with to create a special humidor for us.
Made in England, only six have been made showcasing the façade of our world-famous shop on St James's Street, London. Being one of the world's renowned cigar shops we were delighted to have the image of our iconic shop created on a humidor. Storing the cigars of a few our patrons, we expect the humidor to hold between 90-120 cigars, depending on the size of cigars.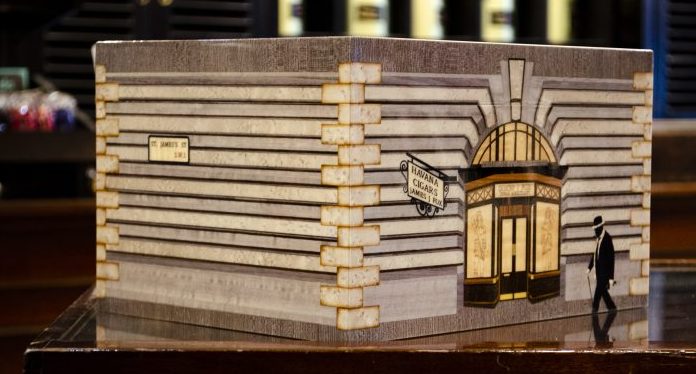 The humidor is created from hand selected American Black Walnut, which is cut and air dried. All the veneers used to create the exterior of the box are hand selected to ensure the most premium of products are selected for use. The sycamore and maple veneers were sliced to create the impression of the shop before removing the material needed to inlay the decorative iconic London features like the phone box, the black cab and perhaps the most famous cigar smoker of all-time, Sir Winston Churchill.
The interior fittings are crafted from Spanish cedar wood, which is a requisite for any cigar humidor as this wood holds more moisture than most ensuring the cigars remain in optimal conditions.
The top lid is connected with bespoke hinges. The box is polished to a perfect high gloss finish applied by Halstock's world class finishing team.
This humidor has been produced with nothing less than the thought of delivering a high-end product. A special edition humidor only available at our St James's Flagship, La Casa del Habano James J Fox in Harrods and online.