The H.Upmann Sir Winston is something of a mystery to some, myth to others and a joy to those who have smoked one. The mystery is that its availability has been sporadic to say the least and when they are available, they tend to fly off the shelf nearly immediately, leading on to the myth for some of 'do they really exist?' This is certainly a cigar that if you have missed it, you could be waiting a long while for the chance again. Smoking this H.Upmann classic is an experience that is somewhat of a rarity.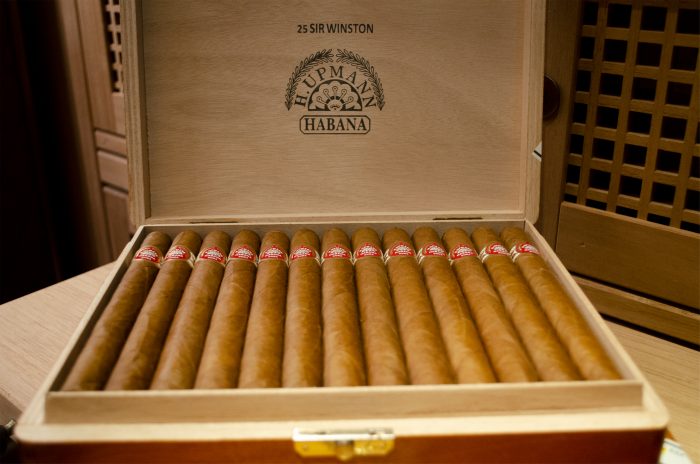 The cigar itself uses the relevant and subtle alias of Sir Winston to remind us that it is a Churchill size cigar. We tend to be spoilt for choice with this vitola; The Romeo y Julieta Churchill being the notorious classic and the one most synonymous with Churchill. Sir Winston Churchill was known to smoke many Julieta No.2 down the years and eventually the brand of the vitola changed the size name to Churchill to pay homage to the most iconic Habanos smoker of that era. Cohiba Esplendidos: perhaps less well known than its Churchill equivalents, but due to the brand and the size this cigar is a real powerhouse of a smoke both in flavour and market value. And probably the most popular one in terms of flavour profile before it was discontinued, the Hoyo de Monterrey Churchill. The other two Churchills of the current regular portfolio belong to the Anejados collection, Montecristo Churchill and Romeo y Julieta Churchill Anejados Tubos.
[caption id="attachment_1654" align="alignnone" width="700"]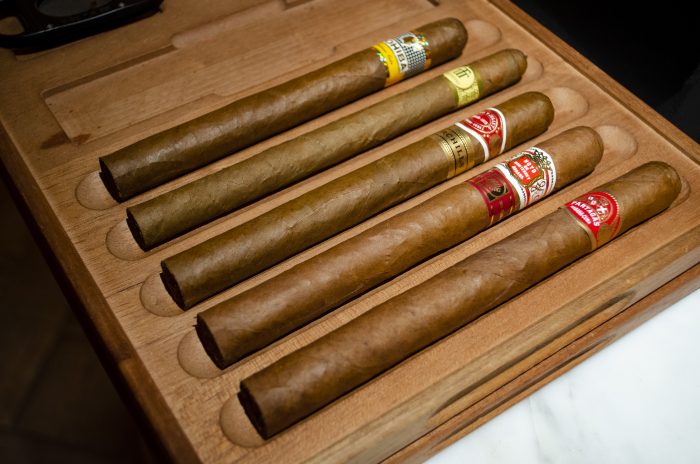 Some giant cigars. Cohiba Esplendidos, Romeo y Julieta Churchill, Hoyo Escogidos, Partagas Lusitanias and Trinidad Fundadores[/caption]
The H.Upmann Sir Winston come in a flat varnished wood box of 25. Not the usual style of box for Habanos but it is one that displays the real high-end luxury market of Cuban Cigars. The gold medals on the traditional decorative H.Upmann logo don't feature on the box - no less than eleven medals representing wins at international exhibitions during the 19th Century. Instead it has the same logo as the H.Upmann band, a more modest and simple design on the box, embossed in gold on the front.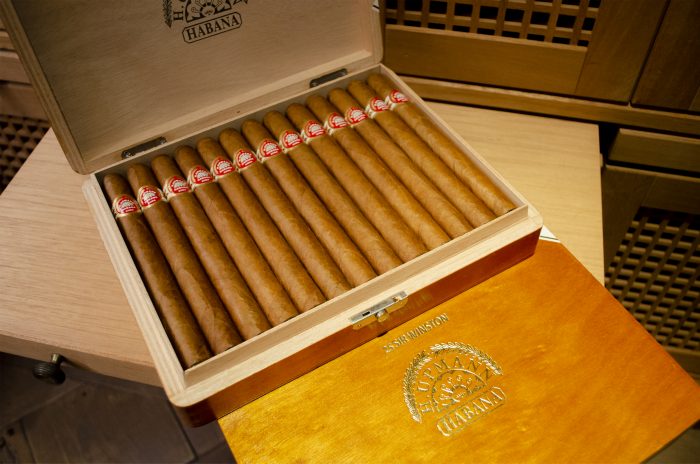 Despite it's sporadic appearances it was released as a Gran Reserva (Cosecha 2011) in 2017. Gran Reservas use tobacco from a specific crop—in this case 2011—that is deemed special enough for a vintage. They are limited edition of typically 5,000 boxes of 15, and the packaging is substantially higher-end, usually coming in smart lacquer cases.
Before they disappear again you can find a box or two down at LCDH James J Fox in Harrods. Visit us on the lower ground floor (adjacent to the Fine Wine and Spirits departments) in Harrods.