Launch Night - Wednesday 19 August 2020
We were delighted to learn of the announcement that the United Kingdom was selected to host the launch of the Habanos S.A. Ramon Allones Allones No.2 Edicion Limitada 2019. The last UK launch of a Limited Edition Habanos was back in November 2017 for the Cohiba Talisman launch. This is the final Edicion Limtada 2019 release following on from the releases of Montecristo Supremos and Quai d'Orsay Senadores. The launch of this cigar was to be a very different experience due to the current circumstances that has affected the world.
The Cigar community rose to the challenge and made this quite a memorable launch for all the right reasons. We were able to have more than 800 views combined on Facebook and Instagram on the night with people across the world being able to join in and watch. We were honoured to have been joined by Jemma Freeman, Managing Director of Hunters and Frankau as well as James J Fox Managing Director, Robert Fox, and other cigar experts in the industry as we officially unveiled the Allones No.2 to the world. It was a real pleasure to be a part of a historic night.
Hunters and Frankau put together a wonderful presentation pack for the evening. A 50ml Hine Cigar Reserve Cognac and bespoke chocolates blended especially to pair with the cigar were a part of the pack.
View the Facebook live video in the link below to our Facebook page.
https://www.facebook.com/jamesjfoxcigars/videos/660938361177063/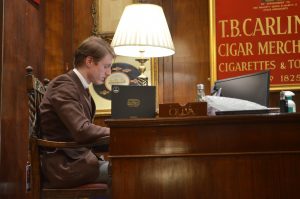 About Ramon Allones
Ramón Allones is one of the oldest Cuban cigar brands still in current production having been established in 1837. They may not have the range of cigars they once had in their illustrious past – over 60 different cigars in production at one time – but the three that remain in current regular production reflect a perfect trio of a short smoke (Small Club Corona), a long smoke (Gigantes) and a Robusto (Specially Selected).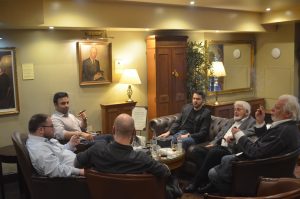 About The Cigar - The Second Cigar
The Ramón Allones Allones No.2 is just the third Limited Edition produced by the brand (2011 Allones Extra and the 2015 Club Allones). The vitola is a classic Campana size – 5½" (140mm) x 52 ring gauge.
To some Habanos smokers this cigar will look very familiar. We have seen this exact vitola from Ramon Allones in the past. Hunters and Frankau helped develop this cigar in 2005 for their first ever Habanos UK Regional Edition. Edicion Limitada cigars are rolled in an entirely new size to what is in the brand's portfolio or in a size that has been out of production for decades.
With a dark oily wrapper and tobacco that is aged at least 2 years, customary for all Edicion Limitada Habanos, this cigar is given an added dimension that enhances the usual Ramon Allones cigar profile that is known to be full bodied. What we would expect is a strong flavour profile balanced out with the wrapper to produce subtle sweet notes. This makes for great ageing potential as it develops and matures over the next few years.
The cigars are housed in Special Presentation Boxes (SPB's) of ten cigars.
Ramón Allones Allones No.2 World Launch from Cigar Smokers Club on Vimeo.
Cigar Review
By Habib Khan - Assistant Manager La Casa del Habano James J Fox
A fairly strong aroma from the wrapper as well as the foot of the cigar. No blemishes on the wrapper - silky and smooth with a somewhat oily appearance. Cool and perfect draw which totals everything I expected from this cigar.
First Third
My first instincts lead me to say very smooth, pungent and a little moist. Flavour is intense and the strength is slowly developing. At this stage the cigar still feels medium bodied and seemingly does not harbour the typical Ramon Allones profile of strength – not yet at least. Little hints of spiciness also come to the fore at times.
All the tasting participants agree how smooth the cognac is and has surely enhanced the cigar experience. I have paired various cigars in the past and agree that is very compatible cognac to most Cuban cigars.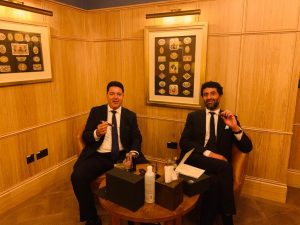 Second Third
Halfway through the cigar and evidently the cigar is starting to intensify, experiencing prominent notes of leather, nuts and woodiness. The strength is developing at the stage I would it expect to. I would say the cigar now feels like a medium to full strength cigar. I've yet to experience any issues with the draw so far.
Last Third
A nice long even ash builds up, a great reflection of the immaculate construction of this cigar. Some dry cedar notes are coming and going in this final part of the cigar. A little surprising the strength has not gone up a notch in the final stages. This could be due to a few reasons and I would not rule out after a few years of age that this cigar matures wonderfully amplifying the flavours and bringing this cigar into the full-bodied category. This cigar remains smooth throughout despite conveying an array of flavour.
THE ALLONES NO. 2 IS NOW AVAILABLE AT NO.19, LA CASA DEL HABANO JAMES J FOX IN HARRODS, SELFRIDGES, NO. 19 AND ONLINE.