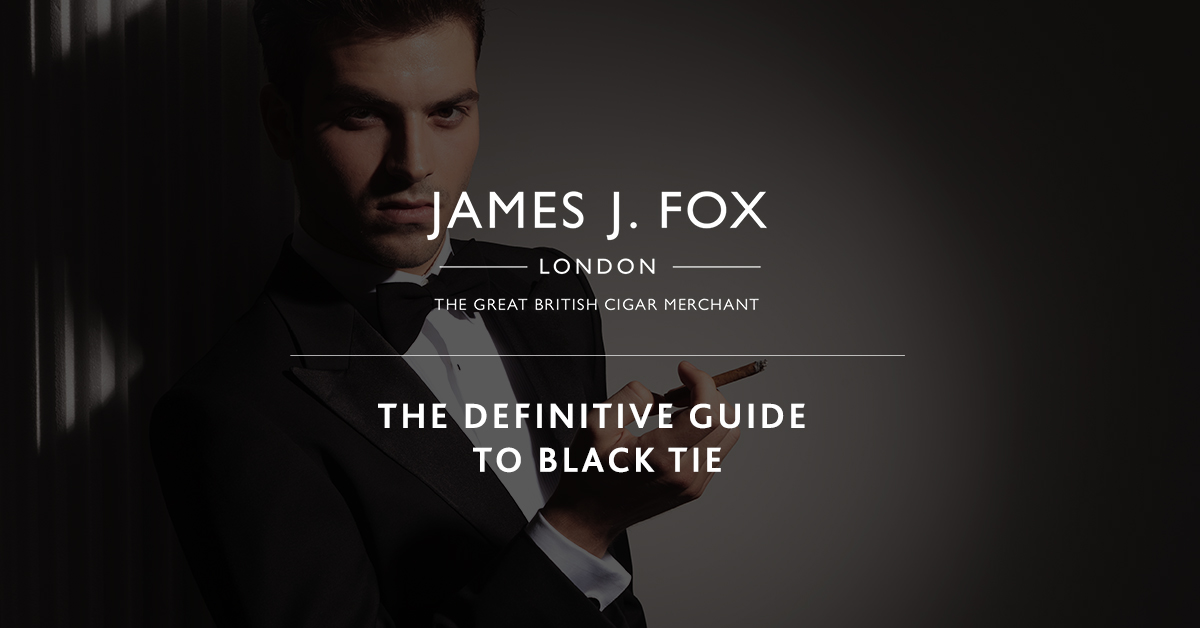 If you have been invited to a black-tie event, it's not unreasonable for you to feel a little panicked at the concept. Does a black-tie event always require you to wear black? Are you expected to wear a cummerbund? Are socks important? These are all crucial questions for which you desperately want answers.
Black tie requires a rather strict dress code and if it's your first black tie event, it is compulsory that you avoid a fashion faux pas. Black tie is guaranteed to have you looking effortlessly chic, provide you know what you're doing. So, here's our guide to dressing for a black-tie event.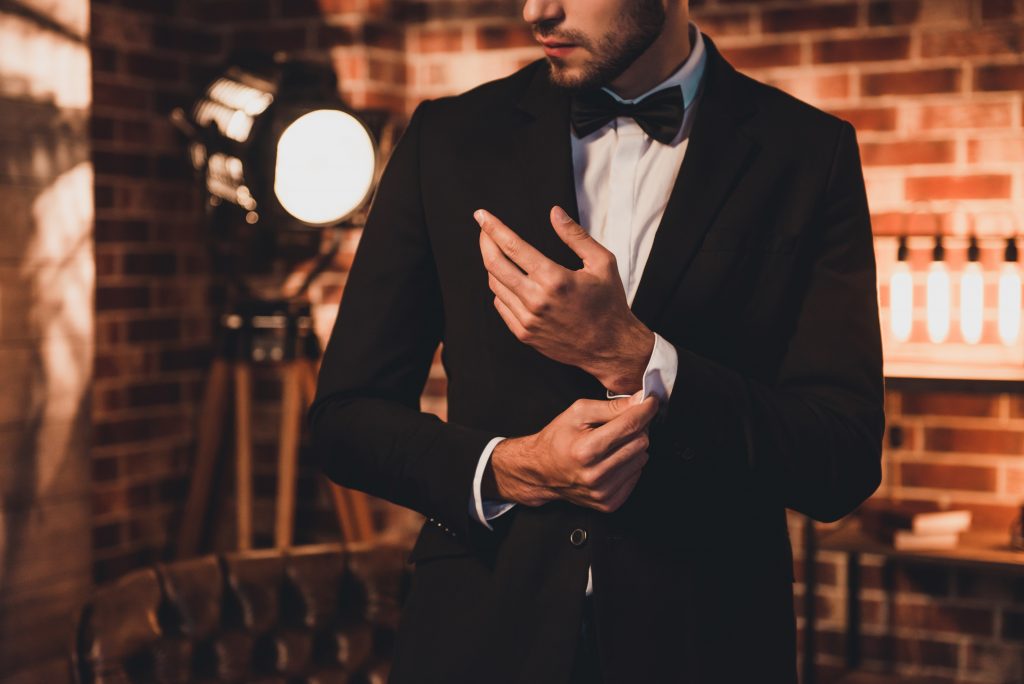 What Kind of Event Requires Black Tie?
As for semi-formal attire, black tie may only be required at events that imply real importance, such as award ceremonies, dinners, milestone birthday parties, weddings, operas, ballets and balls. Consequently, it's essential to get it right and not cut corners.
Where did Black Tie Originate from?
Black tie originated in British and American conventions for attire in the 19th century. In Britain, the dress code is referred to by its principle element for men, the dinner suit or dinner jacket, whereas in America, the term "tuxedo" is more common.
The dinner jacket evolved in the late 19th century from the smoking jacket; the earliest record is an 1865 smoking jacket worn by the Prince of Wales, which was tailored for use at the British Royal Family's informal country estate. During those years, black tie was considered informal wear.
In the decades that followed, the style became known as a dinner jacket, a formal alternative for the tailcoat. By the Edwardian era, the practice of wearing a black waistcoat and a black bow tie with a dinner jacket became convention, and the basis for black tie. It soon evolved into semi-formal evening wear, and by the 1950s, people began experimenting with coloured and patterned jackets, cummerbunds and bow ties, relaxing and expanding the standards of black tie.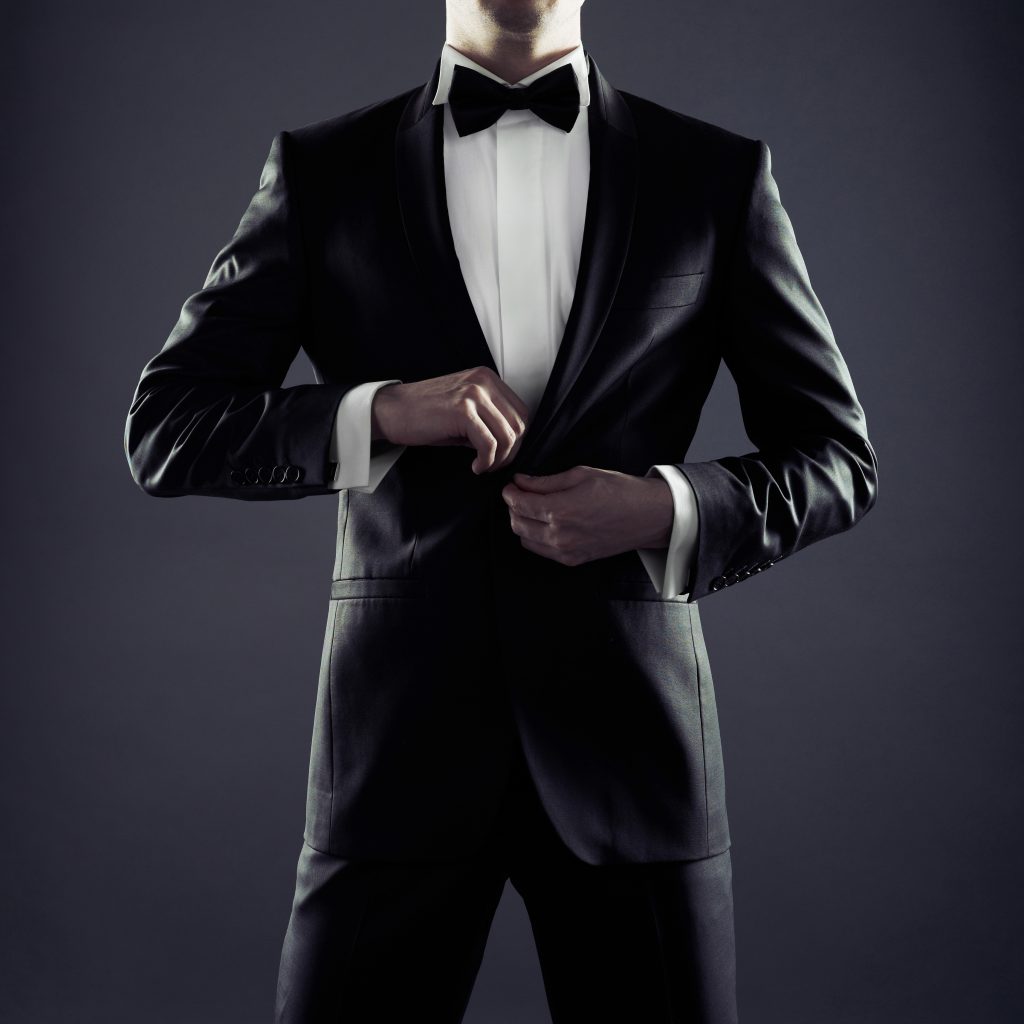 What to Wear to a Black Tie Event
Quite possibly the most important garment for a man's black-tie ensemble. There are three different kinds of lapel to choose from: the notch lapel, the peak lapel and the shawl lapel, their difference being the deepening of the V.
While the name might suggest black is the only option, traditionally, black tie was midnight blue. Midnight blue can be an excellent choice to create a classic monochrome contrast. As for white, this can be pulled off, provided you go for an off-white and that the accompanying trousers are black.
Trousers must be dark, fitted and should match the dinner jacket. They should have a natural taper and a single row of braid down each outside trouser leg.
The shirt, known commonly as the dress shirt, is traditionally pleated with a winged collar and holes for cufflinks. A plain silk shirt with buttons may be worn, but ruffles or frills should be avoided - they are drastically out of style.
Shoes make the man. A good pair of formal shoes should be a staple in every gentleman's wardrobe. Something black is classic and comes off well with a suit.
If your trouser leg strays upwards, you don't want to be showing off your legs. So, go for a sock that is heavier than the standard evening sock that cannot be seen through. Black is always appropriate. Avoid a white sock and black shoe combination.
There's lots of debate as to whether a cummerbund is a requirement of black tie; if you want to show you respect the dress code and have done your research, it can be an advantage, but it is not a necessity. Also, do acknowledge the occasion, as a cummerbund does not suit every type of event.
Black tie ensembles are made for bow ties. Different colours aside from black are acceptable if they work, but white should only be worn at white tie events. They should also be hand-tied and match the lapel facing of the dinner jacket and braiding of the trouser seams.
If not wearing a cummerbund, a waistcoat is an acceptable alternative – they are never worn together.
A simple style is ideal for cufflinks. The most formal and decorative are the double-panel type, which dress both sides of the cuff and are connected by a chain or link of metal.
Typically, linen, silk or cotton and worn in the breast pocket. Should be kept simple and should not match the bow tie.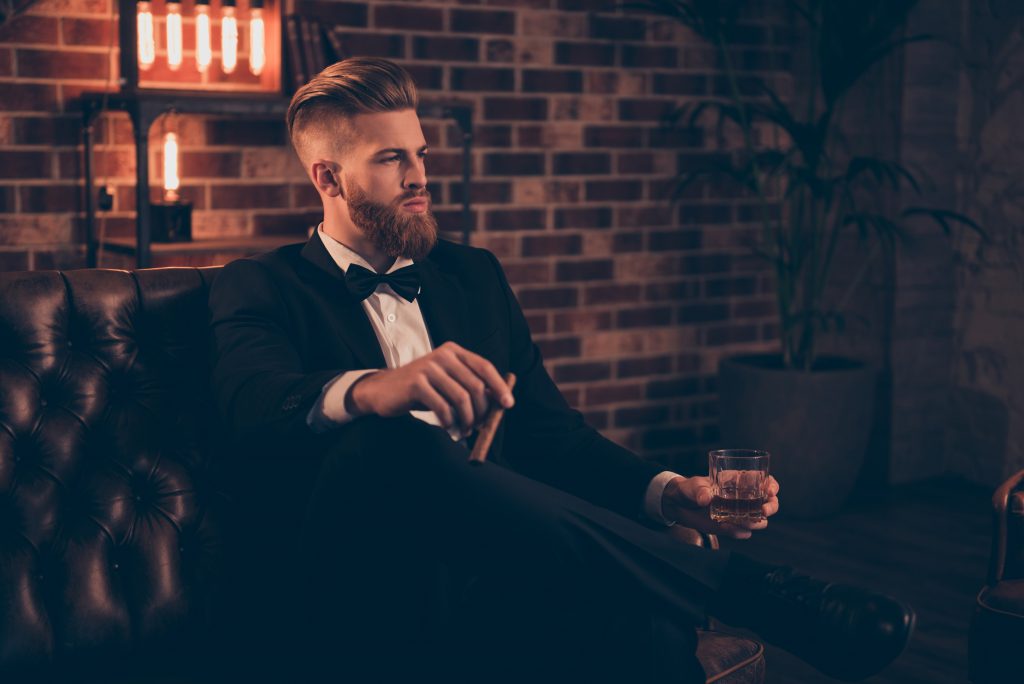 Of course, one can never forget the inclusion of cigars at such a formal occasion, with breast pockets making the perfect place to keep a delectable smoke on hand for when the evening winds down. At James J. Fox, we supply a wide range of cigar brands. Feel free to pay us a visit at our cigar shop in London and sample them for yourself in our cigar lounge.