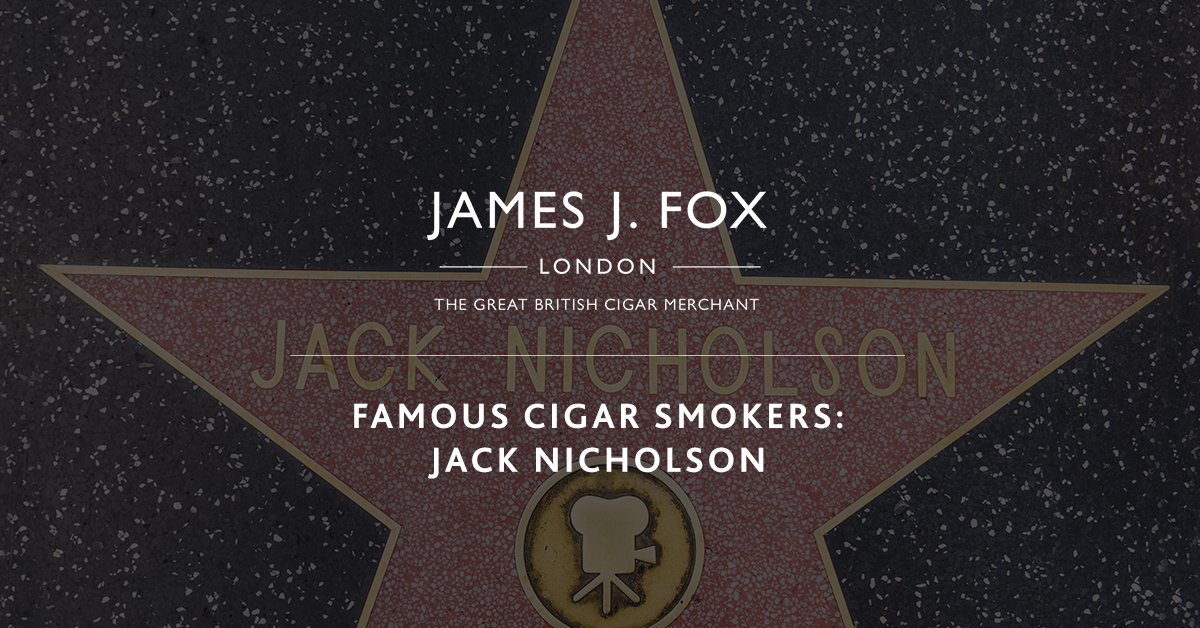 Jack Nicholson is an American actor and filmmaker whose career spans over sixty years. He is best known for playing a wide range of starring or supporting roles in the likes of Easy Rider (1969), Chinatown (1974), One Flew Over the Cuckoo's Nest (1975), Batman (1989), The Shining (1980) and The Bucket List (2007).
His twelve Academy Award nominations make him the most nominated male actor in the Academy's history. He has won Best Actor twice as well as one Academy Award for Best Supporting Actor; he is one of only two actors to be nominated for an Academy Award for acting in every decade from the 1960s to the 2000s.
Jack Nicholson is a known lover of cigars, taking cigar smoking up properly in the early 1990s to wean him off cigarette smoking – he wanted to replace it with a better habit.
Early Life
Born in 1937 in Neptune City, New Jersey, Nicholson was the son of a showgirl mother, June Frances Nicholson. June left home at just sixteen to pursue a theatrical career, but this was cut short when she became pregnant. Forced to return home, June had to not only admit to her pregnancy but that she was also uncertain of who the father was. Nicholson's father is thought to be Italian-American showman Donald Furcillo-Rose. Unmarried and just seventeen years old, June's parents agreed to raise Nicholson as their own child, and June would act as his sister.
Nicholson did not discover the truth of his parentage until 1974 when Time magazine researchers learnt of this and informed him. However, by this time his biological mother, whom he believed to be his sister, had been dead for ten years. Upon finding out, Nicholson was quoted as saying it was: "a pretty dramatic event, but it wasn't what I'd call traumatising. After all, by the time I found out who my mother was, I was pretty well psychologically formed".
After graduating at sixteen, Nicholson decided against going to college, citing that he was too lazy to study hard. He claimed to have drifted for a while, having no ambitions to be an actor at the time. He moved to Southern California with June and secured a job running errands in the animation section at MGM Studios, becoming friendly with William Hanna and Joseph Barbera, creators of Tom & Jerry.
Their influence obtained Nicholson an apprenticeship in a theatre in Hollywood called The Players Ring, where he began to take acting classes after catching the attention of a producer of MGM musicals. His training and the contacts he made there led him to being cast in his first film role, The Cry Baby Killer (1958).
Acting Career
After a decade of small parts performing on the stage and in TV soap operas, Nicholson's first big break was Easy Rider (1969), where he received his first Oscar nomination. He later acknowledged the importance of this role, saying: "All I could see in the early films, before Easy Rider, was this desperate young actor trying to vault out of the screen and create a movie career".
Impressed by his performance in Easy Rider, Stanley Kubrick cast Nicholson in the part of Napoleon in a film about his life. Although this project ultimately fizzled out, it would not be the last time Kubrick cast Nicholson, later giving him the leading role in the film adaptation of Stephen King's The Shining.
One of Nicholson's most celebrated roles was in One Flew Over the Cuckoo's Nest, playing an anti-authoritarian patient in a mental hospital who becomes an inspiring leader for the other patients. The film went on to win the top five Academy Awards, including Nicholson as best actor.
Nicholson's extensive line-up of roles over the last sixty years has meant that he has never been typecast as an actor. Whether he is playing the villain from the Batman comics or the sexually driven Jonathan in Carnal Knowledge, Nicholson has a way to truly bring a role to life and pulls it off with ease.
Today, Nicholson has taken a step back from acting although he does not consider himself to be retired. His last role was in 2010 in How Do You Know. Rumours circulated that he wasn't taking on new roles due to memory loss, but Nicholson went on record to put those rumours to bed and stated that he just didn't enjoy the spotlight anymore.
Jack Nicholson and Cigars
In 1973, Nicholson starred in The Last Detail and smoked cigars whilst filming the picture. It was here where he developed his love for Cuban cigars, being able to get them whilst filming in Canada. He still enjoys Cuban cigars but smokes them only when he's out of the United States, not wanting to encourage smuggling Cuban cigars into the US – however, he has expressed support for lifting the embargo on Cuban imports in the US to give cigar smokers a break.
Nicholson also favours Romeo Y Julieta cigars, Cohiba robustos and especially Motecristos.
If you too enjoy a good smoke, you can buy your cigars from JJ Fox. You can buy Cohiba cigars online or buy Montecristo cigars online or purchase them in one of our London stores.