Many a distinguished individual has taken up the art of smoking cigars. From politicians to actors from the silver screen, cigar smoking is a time-honoured pleasure that we here at JJ Fox have enjoyed for hundreds of years. It seems that the time-old tradition has been a draw for many throughout the years.
However, there has been a special group who have put words to their love of cigars as no others ever could; the literary cigar smokers. Men who, having mastered the written word turned their prowess to their love of a good smoke. Master crafted prose concerning cigars has resulted from this beautiful love affair of author and cigars, some of which we have gathered here in awe.
"A good cigar is a smoke." – Rudyard Kipling
Joseph Rudyard Kipling was a famed journalist, writer, and poet throughout his life. Famed for works such as The Jungle Book, Kim, The Man Who Would Be King and many more. During his life, he was perhaps one of the most popular writers of the United Kingdom. In his lifetime, he received the Nobel Prize in Literature and was offered both a knighthood and the title of British Poet Laureate, honours which he turned down. Today, his children's stories are classics and he is considered the innovator of the modern short story.
Kipling's love for cigars is evident throughout his work, but most notably in the poem The Betrothed. In the work, his love for cigars is tested by the love for his 'betrothed' who wishes for him to give up smoking. The poem ends with the notable quote above – naturally, a fine cigar wins the day.
Over a lifetime of travelling to the finest destinations in the world it is no wonder that he became acquainted with this fine past time. However, his association with the author Mark Twain may also give reason to this love. The two met in 1889, when Kipling turned up unannounced at the home of the famous author. The two conversed for hours and Twain noted afterwards, "Between us, we cover all knowledge; he covers all that can be known and I cover the rest." Perhaps the knowledge between them was the secret of a quality cigar.
"I never smoke to excess – that is, I smoke in moderation, only one cigar at a time." – Mark Twain
In 1835, following the trails of Halley's Comet, a man named Samuel Clemens was born. Throughout his life, he would be a famed writer, humourist, publisher, and lecturer. However, he was better known to all that have enjoyed his works The Adventures of Tom Sawyer and Adventures of Huckleberry Finn under the pen name Mark Twain. As well as a famed author, Twain (or Clemens) is one of the most famed cigar smokers to put pen to paper.
Twain was determined to continue his twenty-two-a-day cigar habit even in the afterlife, as he said: "if smoking is not allowed in heaven, I shall not go." A habit that started at the tender age of nine it seemed nothing could have persuaded him to break such a lifelong habit, not even death. He was reportedly never without a cigar, friends having taken a smoke from his mouth even after he had fallen asleep in some cases. Though Twain attempted to cut back on many occasions the calling was too strong to resist, much to the displeasure of his wife.
However, this abstinence never boded well for his writing. Cigars, it seemed, were a fuel to the fire of inspiration that created many of Twain's best bodies of work. When he abstained smoking for a year he only managed to write six chapters. Dissatisfied, he took up smoking once again, burned the chapters he had written and proceeded to finish the book in three months in an inspired smoking whirlwind.
Muse, comfort and constant companion are few of the choice words to describe Twain's relationship to cigars over his long life. After enjoying three hundred cigars a month for almost seventy-four years, Twain died in 1910 following the re-emergence of Halley's Comet in the sky. A fact he predicted and marked an extraordinary end to an extraordinary life.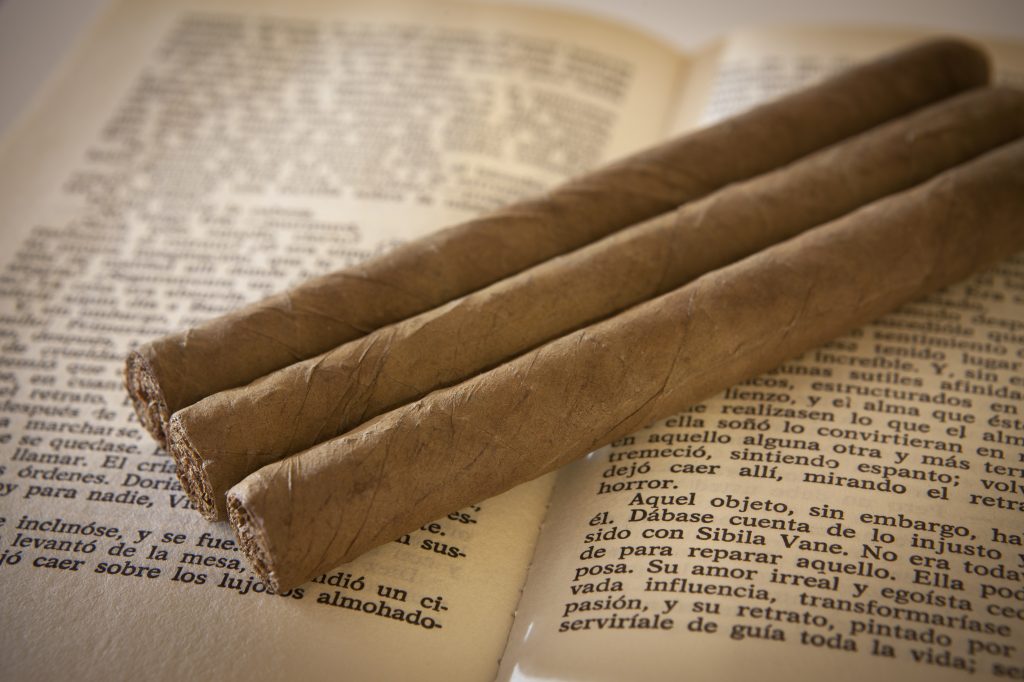 These men are only two examples of the cigar lovers that make up the world of literature, but their love can be said to be unparalleled portrayed in their work and the production of their work throughout their life.
Are you eager to follow your literary heroes into the art of a fine smoke? If you would like to find out more, please don't hesitate to contact a member of our team by calling 020 7930 3787.