'Tis the season to be jolly… almost. It is true, the festive period is creeping up on us and those of you who are particularly keen may already be enjoying Christmas music and festive foods. But, there is still time to get your naughty and nice list in order and prepare for the season of giving. Here at James J. Fox, you will be able to find plenty of fantastic gifts, perfect for the cigar lover in your life. So, if you're in need of a little inspiration, make sure to take a look at some of our top picks for Christmas!
James J. Fox Starter Set
If you have a friend or family member who enjoys the occasional smoke but is new to cigar smoking, our starter set is the perfect gift to familiarise them. The three cigars included in the set are light bodied – ideal for a beginner and you'll also receive a James J. Fox cutter which has a closed back so it won't cut the cigars too deeply.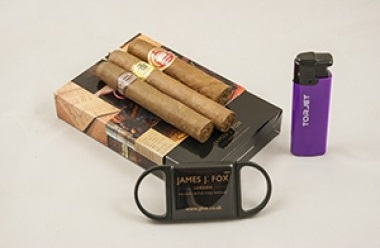 Best of Romeo Y Julieta Cigars
With Winston Churchill's birthday just around the corner, what better way to celebrate than with his favourite brand of cigars? Churchill was a long standing customer of James J. Fox, so it is only fitting that we have his cigar of choice available for you to sample yourselves. The Best of Romeo Y Julieta Cigars selection features a Wide Churchill, a Short Churchill and a Petit Corona.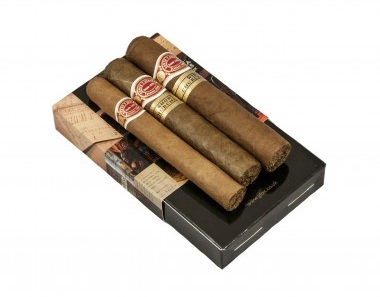 James J. Fox Candle
This is one for the real cigar lover! Team up a love for cigars with a traditional Christmas gift, and you have the James J. Fox Candle! This makes a perfect stocking filler for a cigar enthusiast as it features scents of tobacco, leather and cognac – you can transport your loved one to the James J. Fox smoking lounge every time they light it.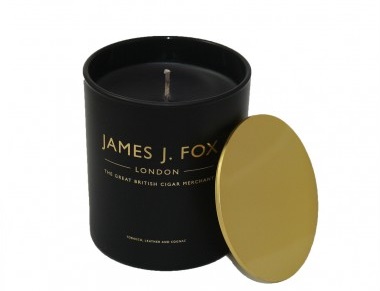 Elie Bleu Alba Ashtray Black
Every cigar smoker needs an ashtray that matches the prestige of their cigar, and the Elie Bleu Alba Ashtray is the perfect choice. Made in the oldest and most famous porcelain factory in Limoges, this ashtray adds a sense of luxury and history, making it the ideal gift, not just for a cigar lover, but for a history buff as well.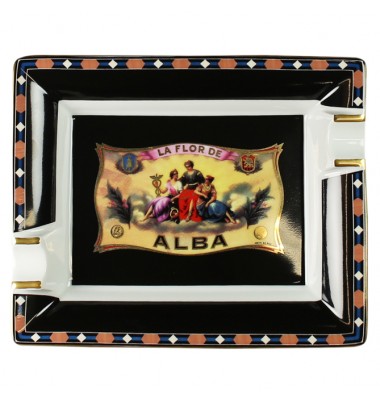 Hillwood Humidor Black Piano
A Humidor is not just a simple box in which to keep your cigars safe, it provides the perfect conditions to ensure that your chosen cigars maintain their integrity when they are stored, so you never have to worry about them becoming dry or losing any of their quality. Such important kit should take pride of place, so opt for one of our beautiful humidors such as this Hillwood Black Piano design. It has the capacity for 50 cigars and the interior is lined in cedar, featuring a precision hygrometer and bespoke brass and wood humidifier system.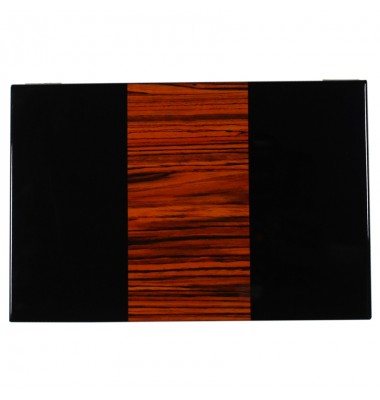 Montecristo Havana Hamper
The Montecristo Havana Hamper is a perfect gift for the avid cigar smoker. It features two Montecristo Petit Edmundo Tubos, two Montecristo Edmundo Tubos, a Habanos ashtray, a Colibri Firebird lighter and an EMS cutter. Providing everything a cigar smoker could wish for, this gift is sure to make Christmas extra special.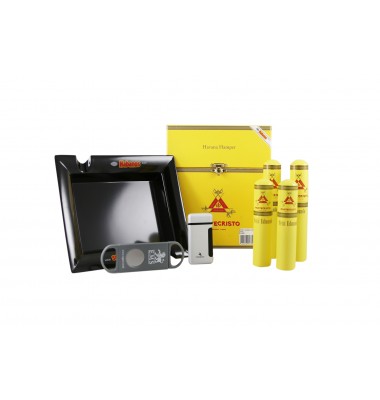 There are plenty of cigars and cigar accessories to choose from this Christmas at James J. Fox, but if you're looking for something extra special for your loved one, why not bring them into our London-based store to visit the largest walk in humidor and sampling lounge in the UK? If you would like to find out more, get in touch with a member of our team by calling 0207 9303787 and we will be more than happy to advise you further.

In the meantime, keep up to date with all of our latest updates on Facebook, Twitter, Pinterest, YouTube and Instagram.