This Father's Day, give the man who raised you the ultimate gift – the gift of cigars. Nothing shows your appreciation for the man who taught you to ride a bike, fix a car and woo a girl like an exquisite, finely rolled, rich smoking experience.
Whether your father is a beginner to the world of cigar smoking or a cigar aficionado, you cannot go wrong with cigars. Father's Day is on 16th June this year, so you don't have very long to get your gift wrapped up and ready. At JJ Fox, we have an extensive range of wonderful cigar gift sets and samplers that would make the ideal Father's Day gift this year. Here are just a few:
Best of Both Worlds Sampler
Available exclusively through the JJ Fox website, our Best of Both Worlds Sampler does exactly what it says on the tin, it offers the best of both worlds. Whilst some swear that Cubans are the best smokes in the world, others would argue in favour of the New World cigars, particularly the Nicaraguan variety. With this sampler, your father can decide for himself.
It includes a Blend 42 Robusto and Oliva Serie G Belicosos to represent the New World cigars, a great pair to introduce someone to New World flavours. Alongside them we have picked two of the most understated Cuban cigars on the market, Ramon Allones Specially Selected and H. Upmann Magnum 46. These cigars are guaranteed to be perfectly suited to any cigar aficionado's standards.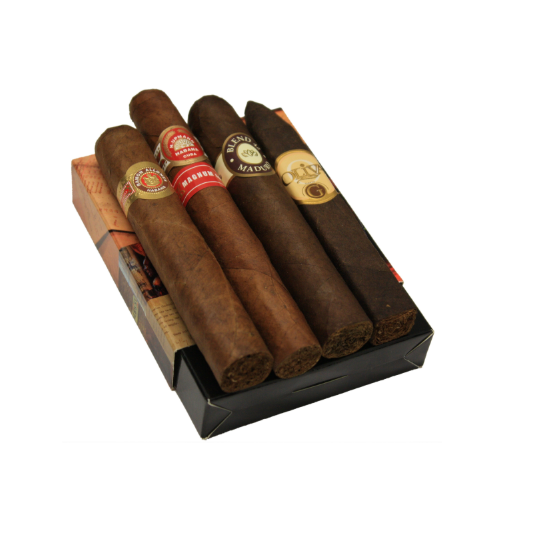 Celebration Sampler
Available exclusively through the JJ Fox website, the Celebration Sampler is the ideal gift for many occasions, including Father's Day. This sampler is a collection of light cigars, making it perfect for the father who is perhaps not a regular cigar smoker. Whilst there is no such thing as a novice cigar, these three consisting of a Montecristo Open Regata, San Cristobal De La Habana La Fuerza and El Rey Del Mundo Choix Supreme, are just light bodied enough for a non-smoker to enjoy and appreciate.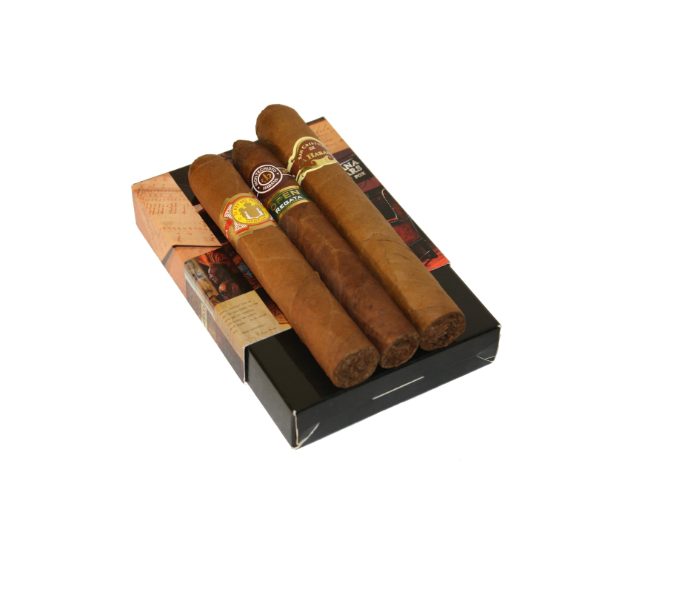 James J. Fox Indulgence Gift Set
Available exclusively through the JJ Fox website, the James J. Fox Indulgence Gift Set includes four cigars and three bars of chocolate; it is the ultimate gift for the father who prefers the finer things in life.
Included is three of our more interesting and favourite smaller cigars. The Por Larranaga blends well with the chocolate due to its honey and sweet notes; the Roman Allones is punchy, earthy, peppery yet undeniably smooth, it works well with the tobacco chocolate; the Trinidad Reyes is one of the best small cigars on the market with the peppery quality of a Montecristo and the same earth/grass notes as the Cohiba Siglo range; finally, the H. Upmann half corona might not last long but it packs a powerful flavour, including a slight element of coffee.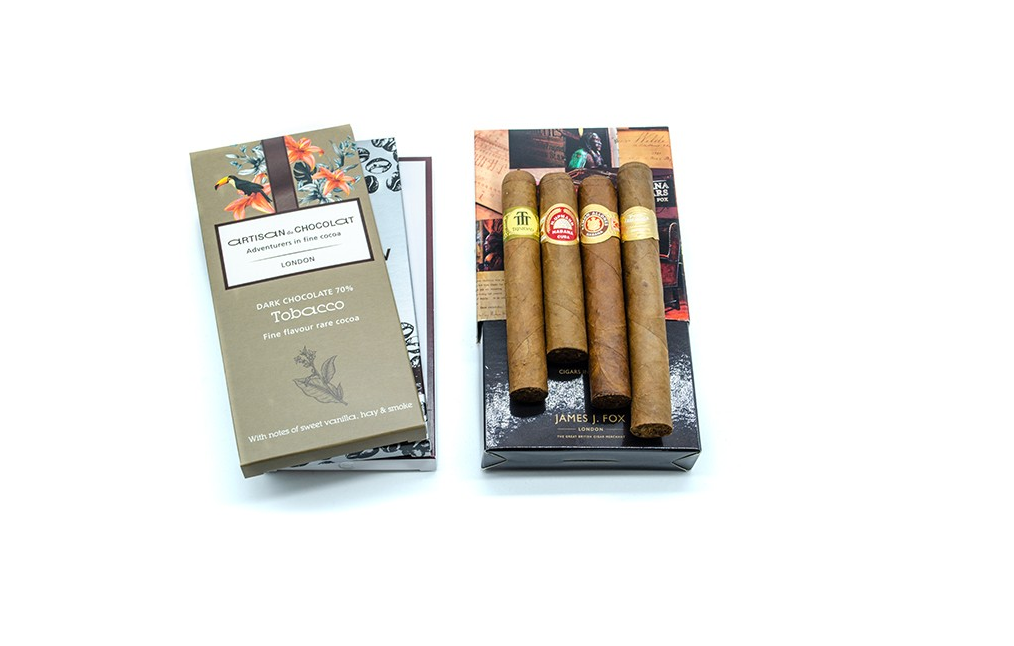 Best of Montecristo Cigars
Available exclusively from the JJ Fox website, the Best of Montecristo Cigars are ideal for fans of Montecristo. This sampler includes:
Montecristo No.2 – Strong flavoured, approachable and distinctive with leather notes, black pepper and cool earth tones.
Montecristo No.4 – Spicy and peppery throughout but not too overwhelming.
Montecristo No.5 – Similar to the No.4 but punchier, with earth, coffee and pepper throughout.
Montecristo Petit Edmundo – A classic Montecristo flavour, beginning peppery and ending spicier, with a balanced earth, leather and cedar throughout.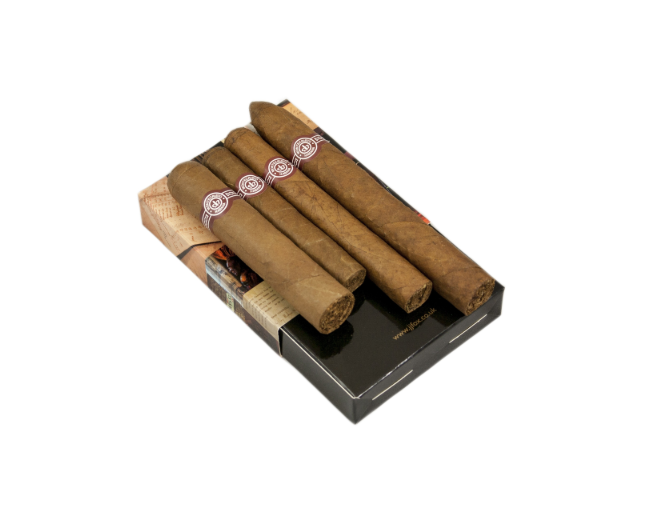 The Full Flavour Sampler
Available exclusively from the JJ Fox website, The Full Flavour Sampler is for the true cigar aficionado who enjoys strong flavours. This sampler includes:
Bolivar Royal Corona – Full-bodied, unusually smooth with a sharpness enthused with heavy leather and the classic Bolivar earthiness.
Ramon Allones Specially Selected – Savoury, straight-forward and immensely flavourful. Begins with a balance of earth, wood and mineral notes and ends with more leather, spice and earthy base notes.
Juan Lopez Selection No.1 – Delicate yet flavourful, a complex taste of white pepper, tannins and spice to complement its earthy base, notable cedar throughout.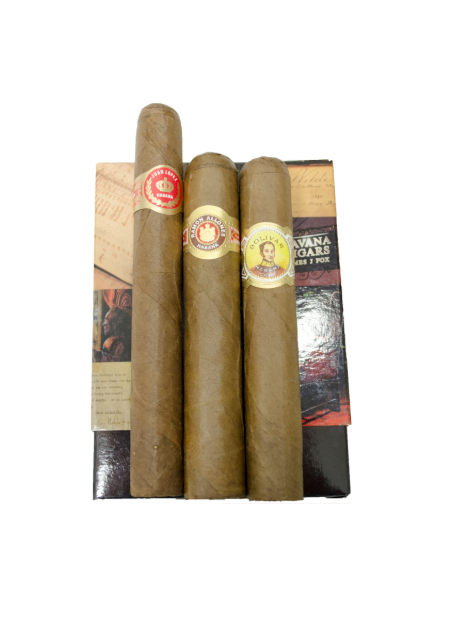 Davidoff the Late Hour Churchill
For a truly sophisticated smoke, Davidoff the Late Hour Churchill can be enjoyed in the twilight hours with nothing but the company of one's own thoughts. Inspired by the great man himself, this cigar is made meticulously to provide the perfect companion during the witching hours. The tobacco leaves are matured in Scotch single malt whiskey cask for a total of six months, it intensifies the sweetness and furthers the depth to the profound flavour, all whilst absorbing the aromas and residue of the whiskey casks.
Only after this are the tobacco leaves deemed worthy to be used as the filler for the Davidoff's Winston Churchill. Give your father a truly special gift this year with this exquisite smoke.


At JJ Fox, we can provide you with superb cigars for many occasions. Take a look at our extensive range online or come down into our cigar shop in London and speak to one of our experts directly.