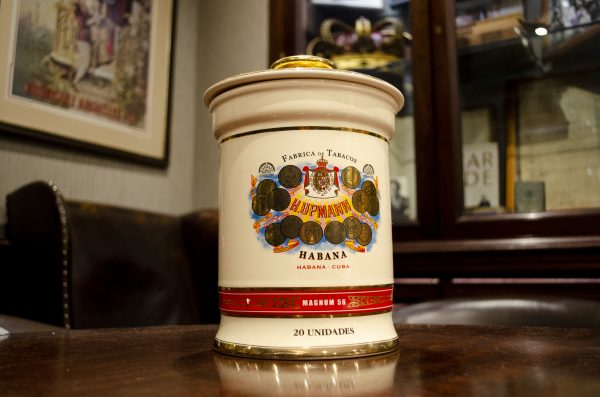 Habanos S.A has produced a second release of the H.Upmann Magnum 56 for the general cigar market. The initial release was specifically intended for travel and duty-free concessions but due to limited travel over the past 14 months the jars have been authorised for sale in traditional merchants.
The cigar is the same vitola and blend as the original but the tobacco, unlike its predecessor, has not been aged. The original debut of the H.Upmann 56 was in 2015 as an Edición Limitada release, presented in Cabinet SLB's of 25. This new release is presented in an elegant ceramic jar with the H.Upmann logo branded onto the outside, and it contains 20 cigars (or 20 unidades, as stated on the jar). Jars of cigars are by no means a new way of packaging, infact the H.Upmann brand were the originators of the amatista jar in the early 20th century – this is a similar type of jar used for the H. Upmann Noellas. The packaging of cigars in ceramic jars dates even further back than that to the late 18th century/early 19th century. While the lid is not quite as air tight as the Noellas, there is a humidification source in the lid to maintain the ideal humidity.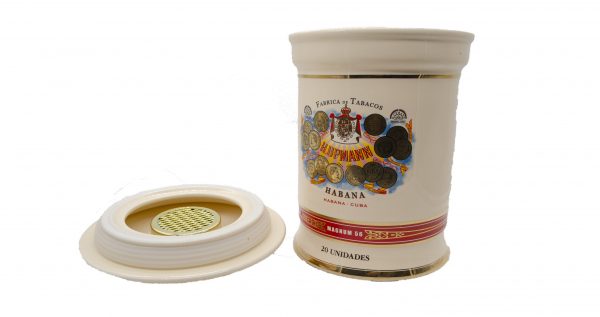 The cigar profile is considered to be of the usual H.Upmann light-to-mild flavour despite the large ring gauge. Its length is just under 6 inches at 5 7/8'' (150mm), so in total a large cigar that would require significant time to enjoy, a smoke time of around 90 minutes. All H.Upmann cigars consists of filler and binder tobaccos grown in the Vuelta Abajo zone.
Such a heavy ring gauge is not so common with Cuban cigars, only a handful of regular portfolio Habanos cigars are more than 54 while only one limited edition has been wider than 56, the Cohiba Supremos (LE 2014). The regular portfolio cigars wider than 54 include the Romeo y Julieta Wide Churchill, Montecristo Leyenda, Cuaba Salamones. The H.Upmann Magnum line also has the 46, 50 ,54; all with different lengths and are part of the regular portfolio.
We have a handful of these jars exclusively at our shop on St James's Street. For more information please visit us on St James's or contact us via James J. Fox Instagram