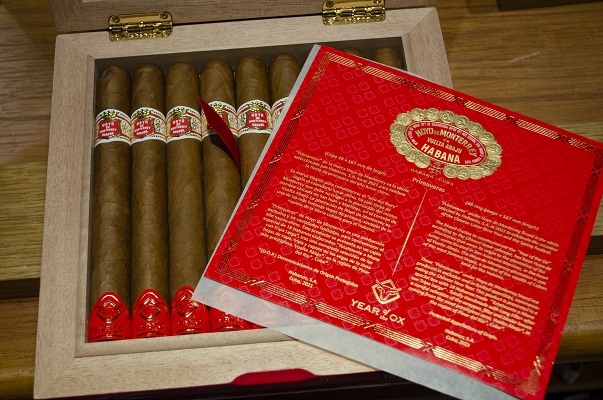 Following up from the Romeo y Julieta Maravillas (Year of the Rat) comes this year's incumbent in the shape of Hoyo de Monterrey Primavera (Year of the Ox). Habanos S.A through its regional distributors The Pacific Cigar Co. LTD (PCC) and Infifon Hong Kong Limited have the Primavera to celebrate the Chinese Lunar New Year.
The Primaveras, of course, is a cigar of limited production although is not banded with the Edicion Limtada's black and gold. It is a special release with the specific amount of 8888 boxes distributed in every region. It does however have a special red band on the foot of the cigar to commemorate the Year of the Ox. The cigar measure 6 5/8" (167mm) x 48 ring gauge and is known as a Hermosos No.1 – the same vitola as the Montecristo Dantes (LE 2016)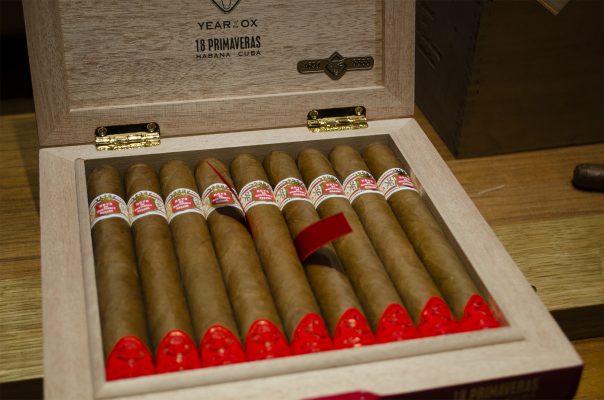 The Primavera has the flavour profile that is familiar with the Hoyo brand – a mild and balanced smoke. This cigar is presented in a delightfully special box of 18 Habanos made "Totalmente a Mano con Tripa Larga".
Because of the limited availability we have reserved the cigars for sale in our St James's, Harrods and Selfridges stores. Please visit our shops to find out more or contact via their respective Instagram pages. James J Fox No. 19 IG – LCDH Harrods IG - Selfridges IG