We are about to receive our first batch of the Romeo y Julieta Linea de Oro, the latest line of cigars released by Habanos S.A. Translated as "Gold Line", they were first announced and showcased at the 2020 Habanos Festival as they commemorated Romeo y Julieta's 145th birthday. It was one of the previewed cigars in the last few years we had expected to arrive in relatively quick time – and two years in the current circumstances is relatively quick time! They are not a limited edition or special edition cigars, instead they are a 'premium' line, very similar to the Montecristo Linea 1935 or Cohiba Maduro 5. And if they're anything like the quality of the Linea 1935 (especially the Maltes) then we can be delighted by this new addition.
The Romeo y Julieta Linea de Oro has been created in three new vitolas,
Dianas: 5 3/4 (145mm) x 52
Hidalgos: 4 7/8 (125mm) x 57
Nobles: 5 3/8 (135mm) x 56
[caption id="" align="alignnone" width="748"]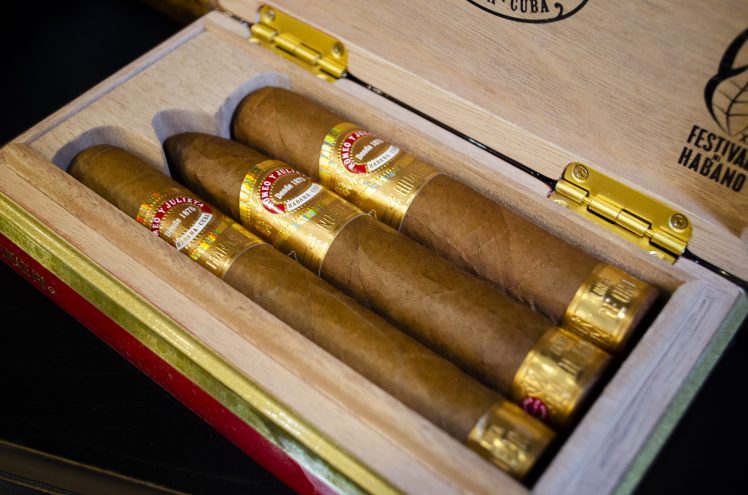 Linea de Oro Gift Box from the Festival del Habano XXII[/caption]
As we've come to expect after the most recent Habanos releases the cigars have been rolled with large ring gauges, with 52 of the Dianas being the slender of the three. The Dianas is also the longest of the three cigars with the shortest and thickest of the cigars being the Hidalgos. The Nobles completes the trifecta with its figurado shape. The new line is instantly recognisable as it has a brand-new Romeo y Julieta gold band and a gold foot band. We've also seen in recent times a more luxury style of boite nature cigar box for the special releases and this is one of them, coming in a red and gold varnished box. The cigars come in boxes of 20.
The Romeo y Julieta Hidalgos and Romeo y Julieta Dianas will be the first to arrive and will be available within the next few days and we hope the Romeo y Julieta Nobles will join the pack in the very near future. Because the demand for these cigars will be exceedingly high, initially, we can only permit one box of the Hidalgos and Dianas per person.
They will be available in store at our St James's Flagship, The Cigar Room – Selfridges and La Casa del Habano James J Fox – Harrods. Please contact the respective departments for availability and more information. We will also have a limited quantity available online. Keep an eye out for when they become live