There are so many wines and cigars to enjoy in the world and too little time. So, here at James J Fox we have gathered a few pairings together to get you started on a taste journey that will leave your taste buds tingling.
Red
Red wine is the opposite side of the coin of fine tastes, with cigars being 'heads'. They are perfect for the aficionado as there are as many options of wines as there are cigars to try them with. However, a red wine is a powerful taste in itself, so a stronger flavoured cigar is often needed to ensure that the wine does not wash out the taste of the cigar entirely.
A Chianti is an all-occasion wine and there is a lot of flavour to be found within the depths of this glass. Produced in central Tuscany, Italy, this is an Italian wine through and through. Historically, it is a wine that is associated with short bottles wrapped in a straw casing. It has a specific recipe of 70% Sangiovese, 15% Canaiolo and 15% Malvasia Bianca – a recipe concocted in the nineteenth century. When starting out on the pairing road, this is the perfect red to start with.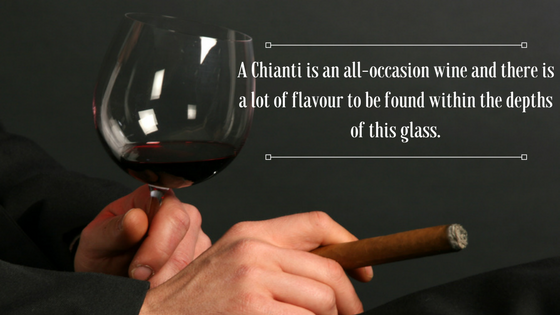 The 2006 Montesecondo Chianti Classico has a bouquet of cherries, earth, leather, liquorice and a concoction of herbs. These flavours are greatly enhanced by a
Hoyo de Monterrey Hermosos No.4 Anejados
. The nutty flavours of the Hermosos include almond and walnuts, with a sweet hint that may surprise you at the end of the draw. The complexity and strength of the flavours are a match for the Chianti and interesting flavours for you to taste on your palate.
Fortified Wine
A fortified wine – for those unfamiliar with the term – is a wine that has its fermentation process stopped partway through the process. This is achieved, typically, by the addition of alcohol (often brandy). This process kills the yeast in the wine and creates a sweeter tasting wine as a result. A fortified wine also has a much higher alcohol content as a result of adding the brandy. Port, Sherry and Madeira wines are typical examples of fortified wines.
Port wines are a traditional pairing for cigars, as the sweeter taste and strong alcohol content mix well with more oaky flavours found in some cigars. An example of a good pairing comes with the Warre Warrior Port and a good Montecristo Especial. Produced and shipped around the world continuously since the 1750s, the Warre Warrior Port is a premier brand that has won multiple awards over its long life. Full of flavours such as ripe and dried plum, mint, chocolate and walnut, the Warre Warrior could be paired with any number of cigars.
However, the Montecristo Especial has a sweet flavour that is a perfect pair to the darker Warre flavours. The sweet and spicy flavour develops into a delightfully toasty finish. This is in contrast to the port which begins sweet and turns savoury, matching together to create a relaxing taste experience. With a minimum smoking time of over an hour, this is one to sit back and enjoy over a glass of port or two.
A good drink only improves a good cigar, the choosing of which can be extremely difficult as there is a world of premier taste experiences awaiting you. The fun comes in trying as many as you can before you discover the perfect pair and if you're not sure on your favourite pairing, why not try cigar samplers for multiple experiences. If you would like to find out more, please don't hesitate to contact a member of our team by calling 020 7930 3787.
You can read more about our other pairings in our article 'Pairing Cigars and Whisky'.