Cigars are not just smoked; they're meant to be enjoyed and savoured. Cigar samplers are a fantastic way to do this, as you're not committing to a specific brand and are, instead, trying to find that perfect smoke that you will return to time and time again.
Cigars are unique and special in their own way, but the experience of smoking them will be subjective to a certain degree – this means that, while you might love Cohiba's luxurious flavours and aromas, someone else might prefer Hoyo de Monterrey's richness and complexity.
But how can you find out your personal preference? By experiencing as many cigars as you can, of course, something made a lot easier by cigar samplers. But this is not the only advantage they offer. Take a look at the reasons why you should try samplers:
New to the World of Cigars
From Cohiba cigars to Montecristo cigars, you need to smoke a variety of flavours in order to find out the one that makes you tick. While most cigars might give you a pleasurable smoking experience, the truth is 'the one' will always be special. If you have recently started smoking cigars, you know that it can be overwhelming to take note of so many different flavours and, what's more, to differentiate between them. Cedar will taste differently to Earthiness, for example, but it is experience that will help you to learn these subtle flavours.
A sampler will allow you to experience different cigars and help you to understand exactly what you want from a cigar. You can only know for sure by smoking a wide variety of cigars, so try out samplers like the James J. Fox 2017 Sampler Set, which contains popular cigars from different brands.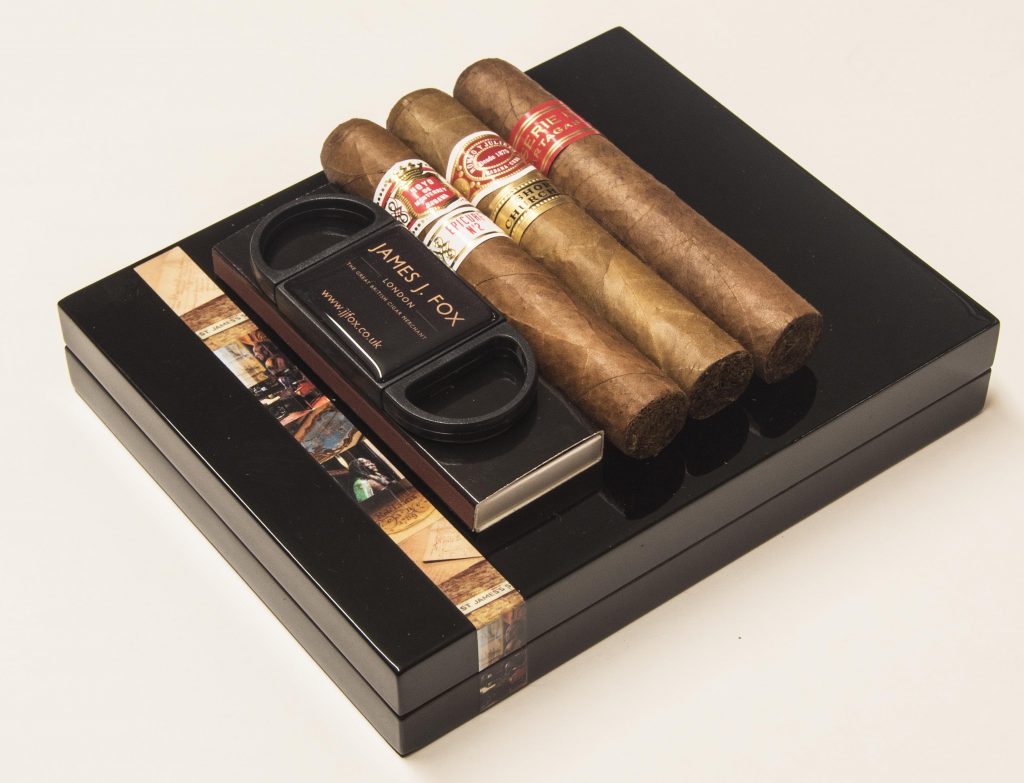 Save Time and Money
Because every person is different, you might find that one cigar is bursting with flavour while someone else will prefer something stronger because they feel it's lacking.
Do you like the notion of trying before you buy it? A cigar sampler can give you this experience, as it allows you to enjoy the best cigars of a brand and for you to determine which one is your favourite. You can also enjoy different brands in one purchase, which helps you to discover the brands you prefer.
If you're not sure whether you'll like a certain cigar, it's better to simply try it instead of purchasing a set and finding out you're not so keen on it after all. If not, you risk wasting your time and money and discovering that the cigars you just purchased are not what you want at all.
Perfect as a Gift
Another great advantage of opting for samplers is that you can offer them as a gift for a loved one. If you already know they prefer a certain brand, such as Romeo Y Julieta, you can offer them a sampler that contains their favourite cigars. If you're unsure about their preference, a cigar sampler allows them to experience several cigars, likely enjoying most, if not all of them.
Any cigar smoker would be delighted to receive cigars and accessories as a gift, including our dupont lighters. Our cigar samplers come in several sizes and quantities, so you can perfectly customise them to your family member or friend's preferences. Samplers are an ideal gift for many different occasions, such as birthdays, anniversaries, weddings and Christmas.
Cigar samplers offer many advantages, so why not start enjoying them today? Browse the James J Fox website if you prefer to take a look at our range of samplers instead, and contact us if you have any questions about any of our products.