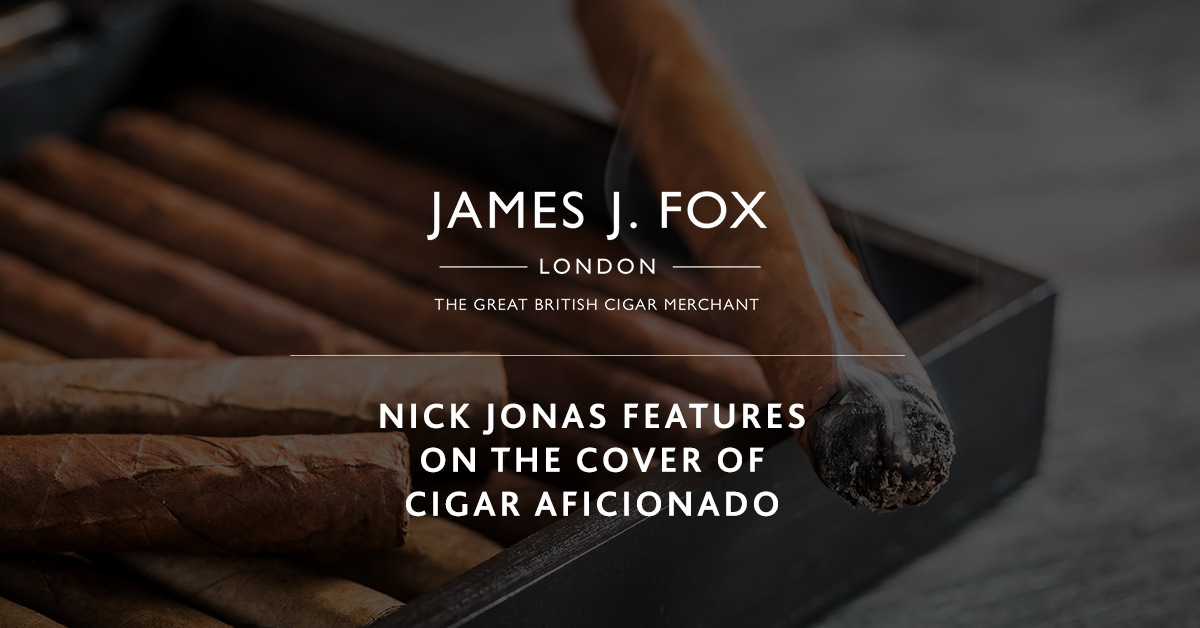 For those who are a fan of Cigar Aficionado, the American magazine dedicated to everything in the world of cigars, you may have noticed an unusual addition to their extensive list of celebrities who have graced the cover.
In their recent September/October 2019 addition, it was musician and actor Nick Jonas who was given this coveted spot. So, what's so significant about this selection? Well, Nick Jonas remains to date, the first person under the age of 30 years old to hold a cigar on the front cover.
First person under 30 to hold a cigar on the cover of one of my favorite magazines. So pumped about this one! Thank you @CigarAficMag! Issue on newsstands September 24th. pic.twitter.com/4n5ga5xKDr

— Nick Jonas (@nickjonas) September 9, 2019
The young star joins an exquisite line-up of celebrities who have featured on the magazine, including Jack Nicholson, Arnold Schwarzenegger, Chuck Norris, Pierce Brosnan, Stanley Tucci, Kelsey Grammer, Robert De Niro, Hugh Jackman, Maggie Siff and Danny DeVito. Here's a bit of background about the newest celebrity to join the Cigar Aficionado cover club.
Early Life
Nick Jonas was born in 1992 in Texas and was discovered at the tender age of six, in a barbershop no less, while his mother was getting a haircut. He was referred to a show business manager and began performing on Broadway at age seven, playing characters such as Chip Potts from Beauty and the Beast, Tiny Tim from A Christmas Carol and Gavroche in Les Misérables.
He wrote a song with his father while performing in Beauty and the Beast (his father was a songwriter and musician) and the song was featured on a compilation album for Broadway songs. It caught the attention of Columbia Records, leading to them producing more singles – where Jonas's brothers provided backup vocals – and this led to the record company signing him and his brothers as a group, where they settled on the name: Jonas Brothers.
Music and Acting Career
As a group, the Jonas Brothers (featuring Nick and his brothers Joe and Kevin) toured throughout 2005 with artists like Kelly Clarkson and the Backstreet Boys. They soon signed with Hollywood Records and gained popularity after appearing on a number of soundtracks. Their album Jonas Brothers sold two million copies across the US, and in 2007, the boys made their acting debut on an episode of the popular Disney series Hannah Montana. The episode had them singing with lead actress Miley Cyrus, and that episode became basic cable's most watched series telecast ever with over ten million viewers.
By 2008, the band were starring in their own Disney series, Jonas Brothers: Living the Dream. The boys made their film debut in 2008 with an appearance in Camp Rock, and their third studio album went on to be their first to debut at number one of the Billboard 200 chart. The band had their own biopic in 2009, which was a financial success, and they went on to do a second Disney series: Jonas.
Following their relatively unsuccessful fourth album, the band took a hiatus to focus on solo projects. Jonas went on to star on Broadway again, performing in Les Misérables for a second time as the character Marius Pontmercy, and performed in Hairspray at the Hollywood Bowl, as well as making an appearance in the 2011 series Mr Sunshine.
The Jonas Brothers parted ways with Hollywood Records in 2012, purchasing all the rights to their music from the label as they began work on their fifth album. However, their highly anticipated tour was cancelled in 2013 only days before it was due to start, citing "creative differences". This prompted rumours that the band were planning to split up for good, and this was later confirmed. The split led to the cancellation of the album, though some of the songs were still released.
With the Jonas Brothers broken up, Jonas went to work on a second solo album, as well as taking on more roles in the acting world, such as in the drama series Kingdom. His album was released in 2014, debuting at number six on the Billboard 200. But his most significant musical success would come with his next album in 2016, which debuted at number two and led to him receiving the honour of the Hal David Starlight Award in the Songwriters Hall of Fame.
Jonas continued with his music, and, at the start of 2019, it was rumoured that the Jonas Brothers were reuniting. They confirmed this with the release of a single of the 1st March. The band are currently touring with their new album, starting in Miami in August and set to end in Paris in February 2020.
Nick Jonas and Cigars
Jonas has a love of cigars, which came as a surprise to many of his fans; he claims to have become interested in them when seeing his touring crew smoking them around him and his brothers when performing shows and decided to give them a try. Since then, he has been seen lighting up and enjoying a relaxing smoke after his shows, so much so that Cigar Aficionado has included him as one of the youngest people to ever appear on the cover of their magazine.
At JJ Fox, we supply a wide range of cigar brands from across the world. If you're looking to buy Cohiba cigars, you can do so from us, either online or in one of our London stores.