There is no greater joy in life than a cigar in one hand and a drink in the other. We have already explored the world of pairing cigars with liquor, wine, whisky and champagne. Now it's time to take a dive into the world of novels and, more specifically, big cigars that perfectly complement a short but sophisticated read.
Big cigars are smoked at a slow, leisurely pace and can last for a few hours. There are many occasions to light a big cigar, such as entertaining an old friend as you enjoy some lively conversation pertaining to politics, philosophy, history or literature.
But perhaps consider the simple pleasure of smoking a big cigar in the company of a different kind of companion, that of a good book (and perhaps an optional drink to sip as you do so).
A good cigar is a lot like a good book. As you smoke your way through a long cigar you are treated to a journey through the changing flavours and aromas until you finally reach the satisfying end, like reaching the end of a book.
If you find you have a few hours to yourself, find a relaxing spot outside in the sun, light up and break out an enticing read to see you through until your fingertips begin to singe. Here are some examples of books and cigars you can pair together: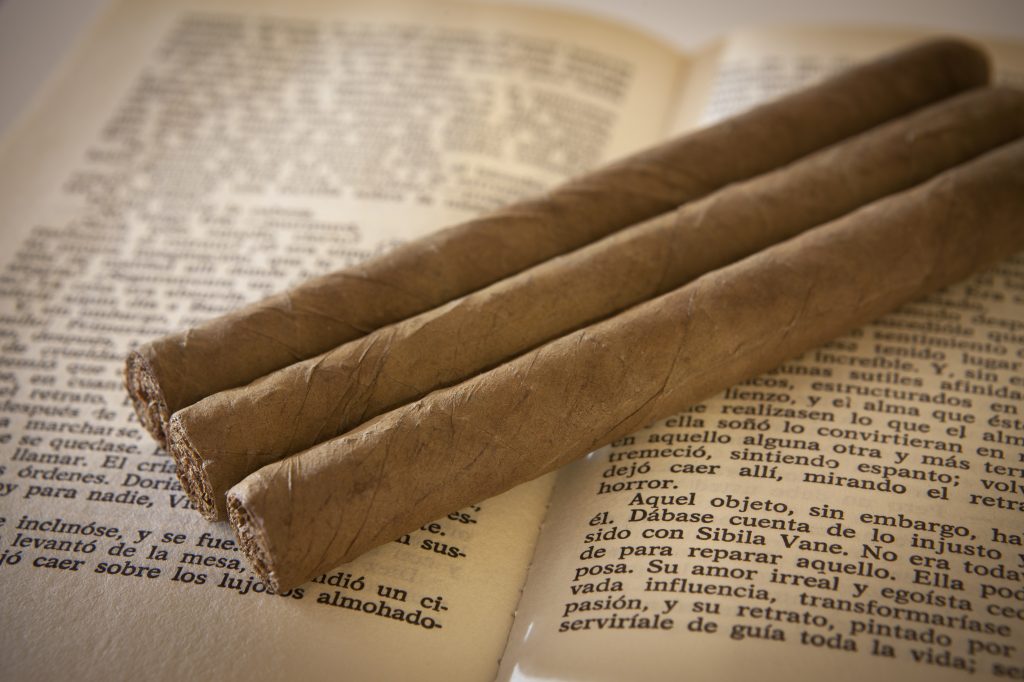 Montecristo Churchill Anejados with 'Fahrenheit 451'
In the perfect humidity conditions of Cuba, the Montecristo Churchill Anejados is an unconventional Montecristo aged for at least 7 years. At 7 inches and a ring gauge of 47, this exquisite Cuban smoke exudes coffee bean and sweet leather notes all the way through – and its extended aging time allows each part of the cigar to melt together and release its full flavour potential. A gradually emerging musty, spicy quality forms the backbone of the profile as you head to the finish.
Pair it with 'Fahrenheit 451' by Ray Bradbury, a somewhat ironic choice to match with any burning object capable of setting the book alight. This dystopian novel is considered one of Bradbury's best works; a world where intellectualism and independent thinking have become abhorrent. This cautionary tale about a society drugged on technology and television and where books are outlawed is considered a must-read. Stimulating and intriguing, like the Montecristo itself.
Romeo Y Julieta Cazadores with 'The Trial'
Nothing is subtle or hidden with this cigar; the Romeo Y Julieta Cazadores is a full-bodied, strong Cuban that builds up power through a distinct three phase approach. Take a trip through time and discover the history of Cuban cigars with rich honey and spice aromas that mount in intensity, concluding with an intense, powerful end. Truly a cigar for the adventurous, perfectly suited to the great outdoors. Cazadores were traditionally aimed at smokers who like bitter flavours.
Light-up with a copy of 'The Trial' by Franz Kafka, a novel that has come to represent the spiritual and political dilemma of the modern age. A compelling read that gives a sense of suspense and intrigue, due in part to the nature of it being incomplete. Kafka once wrote in a letter to a friend: 'A book must be an ice axe to break the sea frozen inside us'. 'The Trial' is certainly an ice axe, and only the strong, intense flavour of a Cazadores can match it.
 Cohiba Esplendidos with 'The Great Gatsby'
Here we combine a classic with a classic. The Cohiba Esplendidos is the ultimate manifestation of a Cuban cigar. Toasty, cool and earthy throughout, this cigar has a silkiness to the blend that gives the unmistakable Cuban experience. Decadent and elegant, with a little spice thrown in, this cigar evolves wonderfully as you work your way through, maintaining a fine balance between strength and aroma.
Pair it with F. Scott Fitzgerald's classic novel, 'The Great Gatsby', a compelling and complex exploration of the American dream and the callousness and moral irresponsibly of the affluent in American society. Follow the story of the prosperous Jay Gatsby with the elegant blend of the Cohiba Esplendidos, which is likely the very cigar he would have smoked
As well as cigars, here at James J Fox we also offer a selection of books and magazines you may want to pair with your favourite smoke. If you wish to learn more about any of our products, do not hesitate to contact us. We are always happy to help and ready to answer any question you may have about the wonderful world of cigars.